Bridging science to application
The Dutch national 2050 roadmap for ElectroChemical Conversion and Materials (ECCM) identifies three focus areas:
Integration of electrolysis and large scale chemical processes (hydrogen);
Innovative scalable electrochemistry and materials science;
Creating focus and critical mass in education and knowledge transfer.
Amcel addresses all three focus areas by bridging science to application. Existing Amsterdam research efforts are strengthened and expanded, linking fundamental research to applied materials science (electrodes, catalysts, and membranes). This is complemented with a joint focus on systems integration and process development. Thus, Amcel builds new bridges between fundamental electrochemistry, materials electrochemistry and molecular electrochemistry, and real-life applications.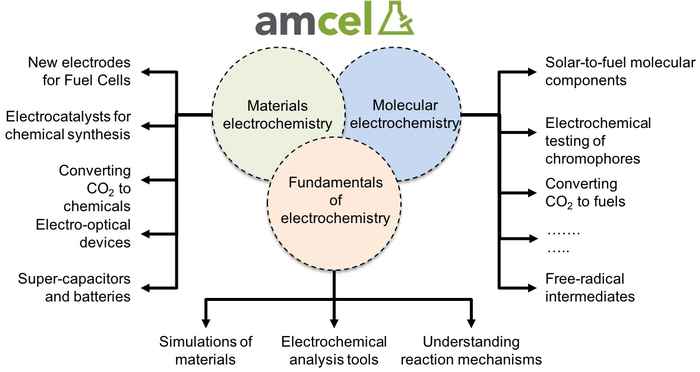 Participants
Partnering in Amcel are the Van 't Hoff Institute for Molecular Sciences (HIMS) at the University of Amsterdam, the AMOLF research institute, Inholland University of Applied Sciences, and Avantium.
Van 't Hoff Institute for Molecular Sciences (HIMS)
HIMS contributes to Amcel with its strong activities in electrochemistry in areas such as fuel cells; CO2 to chemicals; CO2 to fuels; electrochemical reaction mechanisms; and new electrode materials. Amcel benefits from the wide range of groups at HIMS:
* Fuel cells (Ning Yan, Gadi Rothenberg);
* CO2 to chemicals (Raveendran Shiju);
* CO2 to fuels and Solar Fuels (Bas de Bruin, Joost Reek);
* Electrochemical reaction mechanisms (Bernd Ensing, Bas de Bruin, Joost Reek);
* Electrochemical activation of inert C-H, C-X and C-C bonds (Tati Fernández Ibáñez, Bas de Bruin);
* Supercapacitors (Gadi Rothenberg);
* Radical intermediates (Bas de Bruin, Tim Noël);
* Electro-optical devices (Stefania Grecea; Hong Zhang);
* Bio-electrochemical applications (Francesco Mutti; Ning Yan);
* Analytical electrochemistry (Peter Schoenmakers);
* New electrode materials (Stefania Grecea; Ning Yan; David Dubbeldam).
The groups have excellent connections with the chemical industry. There are also opportunities for connecting the activities to the Amsterdam Green Campus, e.g. in CO2 utilisation and in connecting chemical conversion and plant-based CO2 conversions.
AMOLF
AMOLF contributes to Amcel with its groups for nanoscale solar cells and photoelectrochemistry (Erik Garnett; Esther Alarcón-Lladó).
Inholland University of Applied Sciences
Inholland is dedicated to training future professionals in the area of electrochemistry and material science. These young professionals will prove to be valuable assets for the industry and in particular for Amcel. Furthermore, Inholland contributes to Amcel with its research in composite materials for battery technology (Anass Znabet, Structural batteries, Agri, Food & Life Sciences).
Avantium
Avantium contributes to Amcel with its Volta technology. Volta is a platform technology that develops electrochemical processes for the conversion of CO2 paired with valuable oxidation reactions. It has a leading IP position in CO2 reduction with gas diffusion electrodes (GDE's) and paired electrolysis. The research is focused on the upscaling of industrially feasible technologies from laboratory scale to pilot scale. The diversity of the Amcel network from industrial and academic groups helps Avantium to early adopt fundamental research and apply it in an industrial environment. Moreover, being a part of Amcel allows Avantium to engage with the next generation of scientists and engineers and inspire them to pursue a future in sustainable chemistry and help us on the path to a fossil-free world.